Pat Oleszko at Brandeis University
12/14/2016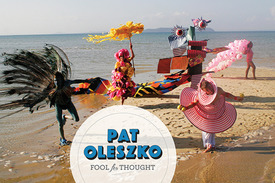 Fool for Thought
Tree of Life 2016 grantee Pat Oleszko makes a spectacle of herself—and doesn't mind if you laugh. With elaborate handmade costumes and props, she utilizes the body as armature for ideas in an array of lampoons that call her audience to action. From the personal to the political, her performances and installations ceremoniously exorcize through humor. Hoisting an enormous burning bra on the exterior of the Women's Studies Research Center, the exhibition
Fool for Thought
highlights costumes and performances from a wild variety of events including
Hello Folly: The Floes & Cons of Arctic Drilling, Oldilocks and the Bewares, Stalking Walking Topiary
and
The Pat and the Hats
. Oleszko, self-identified as the Fool in question and the questioning Fool, fans the flames with rousing absurdity and maintains that she who laughs, lasts.
November 21, 2016 - March 3, 2017
Artist's Lecture and Reception: January 25, 2017
Women's Studies Research Center
Waltham, MA

---
2016 Grantees
6/13/2016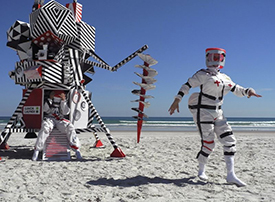 Tree of Life is pleased to announce the five artists who were selected to receive the Tree of Life Individual Artist Grant. The Grantees are:

Ann McCoy, Brooklyn, NY
Pat Oleszko, New York, NY
Gelah Penn, Brooklyn, NY
Linda Carmella Sibio, Joshua Tree, CA
Nancy Youdelman, Clovis, CA

Additional information about the artists and their projects will be posted to the website in July.

Above Image: Pat Oleszko, Darwin's Nightmare Pa't Two: The Half-AstroNuts Dilemma, cardboard, wood, tyvek, plastics, tape, fabric, 12 x 10 x 16 feet, 2013
---
Jane Terry at UFVA
6/13/2016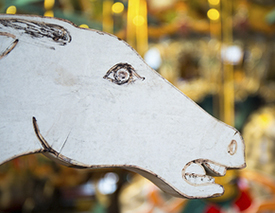 Tree of Life 2015 grantee Jane Terry's short film, Stations, will be screened at the 2016 University Film and Video Association Conference in Las Vegas, Nevada. The UFVA is an international organization of professors, scholars, and film and video makers. The theme of this year's conference is Content Creation in the 21st Century. The film is supported in part by a grant from the Tree of Life Foundation.